2019: Os Guinness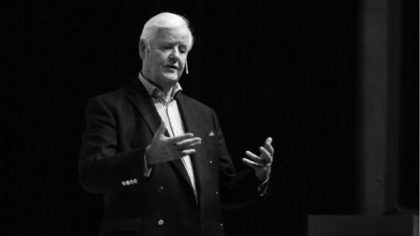 Os Guinness is a bestselling author and social critic who has led efforts to establish key declarations on behalf of freedom, truth, and civility for people across the world. Os goes beyond our surface understanding of God's call and addresses the fact that God has a specific calling for our individual lives.
He has written and edited more than 30 books including The Global Public Square. In it, Os argues that the way forward for the world lies in promoting freedom of religion and belief for people of all faiths and none.
Os has been a guest scholar at the Woodrow Wilson Center for International Studies, a Guest Scholar and Visiting Fellow at the Brookings Institution, and Senior Fellow at the Trinity Forum and the EastWest Institute in New York. He was the lead drafter of the "Global Charter of Conscience," which was published at the European Union Parliament in 2012. It is a global covenant concerning faiths and freedom of conscience. He was also a major drafter of the "Williamsburg Charter" in 1988, a celebration of the bicentennial of the US Constitution.
Get to know Os Guinness at osguinness.com and watch his "If God is God, Why Do Bad Things Happen" video. Discover how you can cope with life and find reason to trust in God when bad things happen.




Reserve Your Spot Today
Join us for the 2019 Fall Faith Series luncheon, and hear Os Guinness's inspiring message about God and faith.
Get Tickets
This event is brought to you by...